The gentleman from whom I got my most recent Cube was kind enough to include some brand-new, but never-installed, rubber rollers for the N4000 monitor. He had bought these to replace the original pair, which disintegrated. I'm wondering if anyone has ever installed these? Is there a difference between the N4000 and N4000A rollers? (My monitor is definitely an early N4000).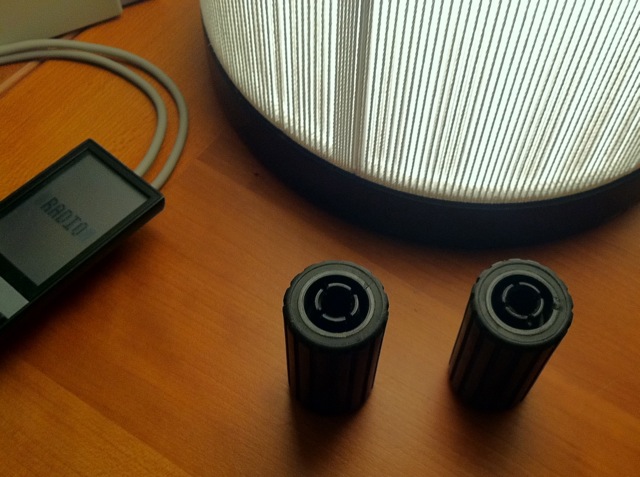 Update: These rollers are indeed different between the original N4000 and the more-common N4000A. The ones pictured above are for the N4000A.
Now that makes me curious. I have some rollers, but I'm not sure they're for the N4000 or the N4000A. It'd be nice to have a supply of these things... I wonder if you could cast new feet out of some of the hard 2-part silicon rubber?
Here's a photo of the N4000 foot -- note that it doesn't have any rubber on it anymore: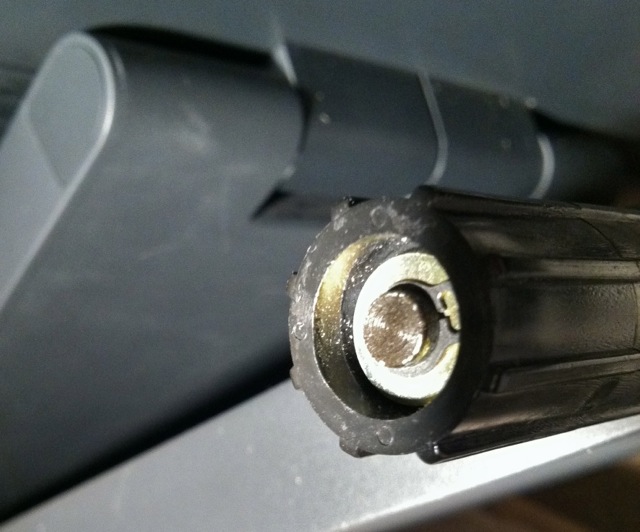 What is interesting is that it relies on a c-clamp to stay attached to the axle, shown here:
The newer N4000A foot, above, has plastic claws that hold it onto a differently-shaped axle. I think there's no way to use the newer N4000 foot on a newer N4000A monitor, because the axle is too large -- the newer foot won't physically fit on it.
Because the rubber has disintegrated from my original N4000 foot, I don't know how you would have pulled it off to expose the c-clamp shown above. Does anyone else? Seems like it would take a lot of force to get it off...
I just checked one of the N4000 I have that has some rubber feet on it. Quite a gooey mess but you can still see that these were about the same size as the feet for the N4000A, but slip-on (hence the grooves). I think we could cast some feet out of Flexane 94 or somesuch.

Sadly, the feet I have are soft enough now that they cannot be removed without destroying them. If anyone has some in slightly better condition, we could make a silicon mould and try to reproduce them.
Quote from: "gtnicol"I just checked one of the N4000 I have that has some rubber feet on it. Quite a gooey mess but you can still see that these were about the same size as the feet for the N4000A, but slip-on (hence the grooves). I think we could cast some feet out of Flexane 94 or somesuch.

Sadly, the feet I have are soft enough now that they cannot be removed without destroying them. If anyone has some in slightly better condition, we could make a silicon mould and try to reproduce them.
I've been looking at the 4000A feet and it may be possible to core them out using a drill press and vice to hold fimrly in place with 5/8" then 11/16" then 3/4" bit which should fit over the plastic spindle with old rubber removed. The Modified custom foot should then be 3d scanable . In fact a 3d scan of the outside and using the 3d cad package to create a slightly larger than 3/4" interior sleeve might do the trick. Another project any one out there have a 3d scan printer setup , I need to take that 3D scanner printer course over at the Colorado State university for $25 LOL.
I wonder if making a mold would be better for this?
Just replying with the solution I ultimately came up with. I swapped the original base of the N4000 monitor with the newer, lighter N4000a base. (They are nearly identical in design, but differ in materials.)

The rollers on the new N4000a base are ironically in great shape, so I still have the spare pair of N4000a rollers that I'm unable to use to replace the original N4000 rollers.
Hi guys,

is there any maintenance procedure for removing the rollers on both N4000 and N4000A? I like the idea of casting spare ones using silicon moulds and would like to give it a try.

Thanks
Ciao Paolo, I suggest you use the WD-40 oil with a thin straw: I use it successfully to unstick the knobs of old bikes.
Sprinkle between the rubber and the pin and let stand a few hours, then slightly widens the gum with a spoon to let the oil in better. After a few hours, firmly grips the rubber and twists it pulling outwards.
If it is not clear, send me a MP :-)
Hi all,
I'm considering making a small series of rubber feet replica for the N4000. I'm fairly optimistic it's doable, I'm working on the CAD of the part and the mould.
Expenditure for CNC machined components is quite high, so before ordering anything I would like to understand if there's anyone really interested apart from me, myself and I. No commitment, on either sides.
Definitely interested in a few sets.
I would be as well!
Hello: Count me in for at least 10 sets , it would be nice to finally have a solution for this .... Best regards Rob Blessin
Thanks for the positive feedback. I need to spend some more time for assessing the feasibility before giving green light, but having some interest is definitely helping.
One question, as I don't have N4000 rubber feet: beside the different inner section, is there any major difference in the outer design compared to N4000A or shall I assume that the visible surfaces are the same?
As most of the 4000 feet have melted long ago , so the easiest approach may be to use the inner spindle of the 4000 and the exterior of the 4000A . Are you thinking about creating a mold or 3d printable replacement.
As there are no master samples, it's necessary to create one, I'm working on the CAD. I already made a CAD model for the 4000A, I'm now waiting to get a N4000 display for measuring the main dimensions of the plastic spindle.
Idea is then to 3D print a master sample for checking fit and form. Once validated, next step will be making a mould for liquid rubber casting, either out of silicone rubber or directly out of solid blocks of aluminum or plastic (CNC).
As for the material, after some preliminary search, I've found some options with polyurethane rubbers for casting. Picking the right final hardness will be difficult, but I assume shore A 60 to 80 should be fine (more or less like a tire tread).
Long and complex project, but I want to give it a try.
Some updates on this investigation. Today I finally received the N4000 display I was waiting for. Nice unit, crisp and bright CRT. The paint of the steel base is bubbling here and there but it's overall OK. The rubber rollers are gone, sticky and soft like bitumen. I managed to remove one and to disassemble and clean the spindle.
First finding: the rubber roller of the N4000A serie is not compatible, i.e. you cannot fit N4000A feet on N4000 spindle, not even the inner diameter is the same. Probably, you all knew that already.
Outer dimensions seem to be compatible, though.
So, I have no clue if N4000A rubber rollers are still available in some quantity, but for sure it would be much easier and way cheaper to 3D print / CNC a "hybrid" spindle (compatible with N4000 base and N4000A rubber) rather than casting new rubber...
Hi Guys,

latest updates on this project.

After some additional trials, I've finally nailed the recipe (mix of different compounds), the final hardness is now definitely OK.

Additionally, I've put in the process a small vacuum chamber for "degassing" the mix before pouring it in the mould, this helps with the elimination of most of small air bubbles that may remain entrapped during the mixing process.

The final aspect of the roller with the graining coming from the mould is totally consistent, so one could even keep it "as is" right off the mould.
However, some sanding with a very fine grit paper and the aspect gets much closer to the matte finish of the original rollers.

It's a matter of tastes, but to my opinion - as we're speaking about a "replica" - it looks nice in both finishing levels.

Anyhow, from my angle this project is now over, I got what I was looking for, it kept me busy for a while, I learnt something new, I'm not planning to further develop it. Besides, it costed me already serious money and any improvement would require additional expenditure.

Now, I have raw chemicals (which have limited shelf life) for not so many more parts (my guess is between 10 to 15 pieces, including scrap rate, say 6-8 sets max), I will make pieces until chemicals and disposables will last.

Unfortunately, at this moment I can't commit to make more, as it's a very time consuming (and expensive) process (I can only work on this over weekends, and each set keeps me busy for hours...).

I attach some pics, as in the transition to the new forums (cool!) something went lost.
You cannot see attachments on this board.
Final result, I'm OK with it!

Very good Paolo, a perfect result imho 8)
Looks perfect to me!
Paolo, I am very excited to hear about all of your progress on this project! (I say "hear" because I can't see any photos that had previously been attached...).

I'd really like to get a hold of a set myself, but it sounds like they're a ton of work to produce. Of course I'd like some of yours if they are available and you've found time to make some more, but more likely I ask, would you be willing to share the 3D CAD model?

3D printing might be an option with some of the new rubbery materials that are now available. I'd be interested in trying that out, and it could be a sustainable source for folks that end up needing them in the future.

Also, a few years ago I had the opportunity to visit St. Gallen. Happy to meet someone from there!
Hi All,

I finally finished the moulding of all rollers I could make with the available consumable materials.
Eventually, I have a total of 20 sets (40 pieces), which took me busy over the weekends for one month (in this corner of the world, it's been horribly rainy).
Considering the very relevant effort in terms of both money and time (each single piece takes between 1.5 and 2 hours), for sure I'm not planning to make more.
I tried to create an ad on eBay, but it's too complex, especially as I'm currently based in Poland and Polish is not my strongest asset...
So, for the moment I just desist and if anyone is interested I will take direct orders (please PM me or contact me at paolo and then a dot, then bertolo, then an "at", and then gmail, a dot again, and then com).
Asking price is 40 € (Euro) per set (2 rollers), plus shipment and - in case - taxes.
I'm not able to quantify shipment costs, but in case it will be a small padded envelope, so I'm not expecting much. Case by case, I will verify with the local post office and will inform before the payment is finalised.
I'm open to consider different conditions for multiple orders, my wish is just to see as many N4000 displays as possible finally back in a close-to-original cosmetic shape.
Below some more notes I have prepared for the eBay ad.

"Set of 2 rubber rollers for NeXT MegaPixel Display N4000.
These are replica rollers, as original spares are no longer available.
They are made with formulated polyurethane compound, final shore hardness approx 75 shore A.
Please note that the inner spindle is different between N4000 and N4000A series, so the rollers will not fit on N4000A displays.
For sale are off-mould pieces, on purpose not including any additional finishing, as it is possible to further adjust the final optical finish depending on personal tastes.
Off mould surface finish is slightly coarse and shiny, but consistent.
Sanding (at own risk) the outer surface with fine grit paper will give the rollers an even and matt look.
Due to the hobbyist nature of the production, they are sold as they are, no return accepted."
Hello Paolo: I sent you a PM , obviously I would be happy to buy a few sets and also distribute them here in the US and I have some nice 4000 monitors that need feet. Lets make a deal. Best Regards Rob Blessin
I got my rollers in from Paolo today. I am beyond impressed! I 100% would believe these are factory parts. The rubber has a great feel and the texture looks great.
Quote from: barcher174 on June 18, 2019, 03:55:58 amI got my rollers in from Paolo today. I am beyond impressed!

Thanks for your feedback, Brian!
I'm really glad you are happy with the result!